Unfortunately, locksmith scams are an all-too-common occurrence throughout the United States. After being locked out of their home or car, an unsuspecting person will search for local locksmiths online, hoping to get back in quickly and cheaply. However, most do not realize that locksmith scammers hide in online results for companies that don't exist. They make their websites look legitimate, providing a phone number and fake address. The "locksmith" often arrives late, and will bill you hundreds of dollars more than they estimated after breaking the lock on your door.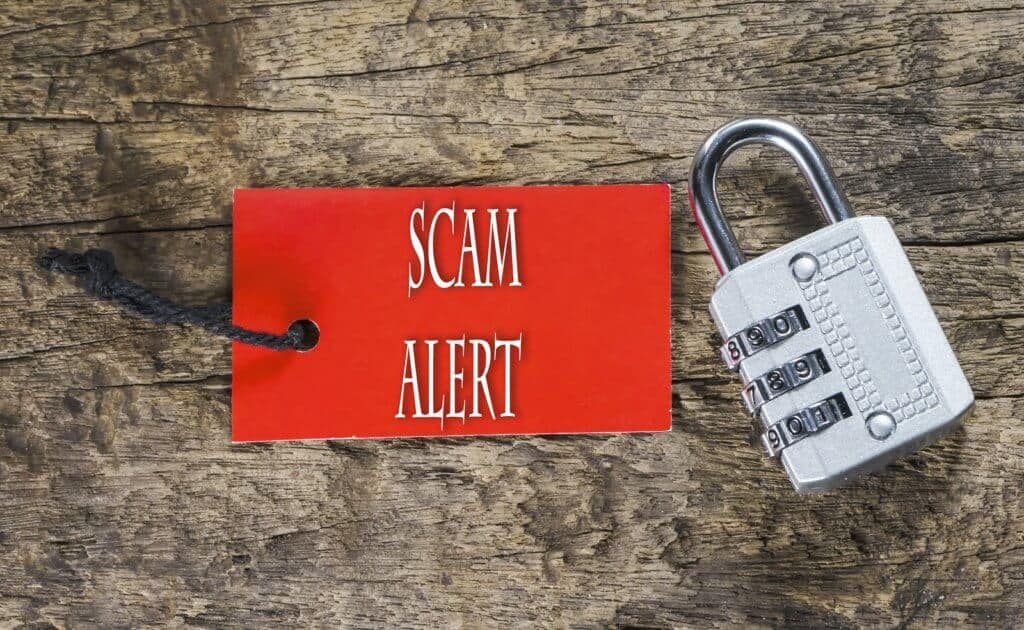 If this circumstance has happened to you, do not feel ashamed! These scammers are prevalent throughout the industry, and this unfortunate occurrence happens to hundreds of people every year.  Below we have listed some tell-tale signs that your "locksmith" is a scammer, along with what action to take if you find yourself a victim of a locksmith scam.
Signs Of A Locksmith Scam
Estimated cost is too low: Scammers will often advertise a very low price, in order to lure you away from legitimate locksmiths. They may claim online or over the phone that the job will cost between $15-35, only to bombard you with questionable service fees after they finish the job.  Do not be fooled by low prices, as any credible locksmith will charge around $100 for a lockout.
No full estimate upfront: Be sure to ask for a written estimate before the work is completed, with all additional fees included. Scammers often bill hundreds of dollars in additional charges, claiming the added fees are because you called during "emergency hours" or there are "mileage charges, minimums, service fees" etc. If they refuse to give you a written estimate, or if the estimate is way too high, they may be attempting to scam you.
No marked vehicle or uniform: Legitimate locksmiths will usually arrive in a company marked vehicle and uniform, in a timely manner. Be wary of any "locksmith" who arrives late and/or without a uniform or marked vehicle. Ask for the locksmith's identification upon arrival, as scammers will usually refuse to show you any form of ID and become hostile when you ask for credentials. Scammers also may have an answering service that only refers to the company as "locksmith service" or "locksmith company," so be sure to ask for a specific name when you call.
Accepts only cash: If the locksmith tells you they only accept cash or debit, they may be a scammer. Credit cards are avoided by scammers because they are easier to trace. Any reputable locksmith will be able to take credit, debit or cash payment from customers.
"Have" to drill your lock: A HUGE sign that a locksmith is a scammer is that they claim they "have to" drill your lock.  They may claim it's a high security lock, when it's not,  or that your lock is too new. There are a variety of other "explanations" they may use to justify drilling the lock. However, as a general rule of thumb, do NOT let anyone drill your lock. Certified, reputable locksmiths have the tools and expertise to pick almost any lock. Scammers will leave you with a broken lock, and a bill for hundreds of dollars.
No receipt after you pay: Always ask for a receipt after you pay a locksmith. Reputable locksmiths should have no problem giving you an itemized receipt after the work is complete. The receipt will likely  have the company letterhead, logo, or contact information, along with a list of each of the charges. A good locksmith will explain each of the charges ahead of time, and will provide information for you to contact the company after the job.
What To Do If You've Been Scammed
Unfortunately, these scammers are good at what they do, and odds are, if you've already provided payment you will not be able to get your money back. However, if you feel that you've been the victim of a scam, there are some steps you can take:
Call the state's attorney general's office: Report the locksmith to your state's Attorney General's office immediately. They will investigate the "locksmith" company and take action if they feel appropriate.
Call a reputable locksmith: If a scammer has tampered with your locks, you may need to have them rekeyed for your safety. Reputable locksmiths, such as Pop-A-Lock, will also be able to fix the damage done by the scammer, and replace the broken lock.
Trusted Locksmiths at Pop-A-Lock
When you call a locksmith, make sure they are qualified by being a member of the Associated Locksmiths of America (ALOA). This organization vets locksmiths, and ensures you can trust the expertise and knowledge of the technician dispatched to you. Established organizations such as Pop-A-Lock have technicians that are certified, qualified and ready to help you with your locksmithing needs. Pop-A-Lock employees will always arrive in a marked vehicle and uniform, and will be ready to discuss all charges transparently with you upfront. We have the tools to pick almost any lock without damage, and are always ready to help our valued customers.
Contact Pop-A-Lock Today!
Locked out of your home or car? Contact Pop-A-Lock today! We provide a 24/7 emergency lockout services, and provide free service to caregivers who have accidentally locked their child inside their car through our PAL Saves Kids program.
Founded in Lafayette, Louisiana, Pop-A-Lock has quickly become the largest professional locksmithing franchise in the United States. All of our technicians are certified, experienced, and ready to help you find the best solution for your individual needs.  You can call (800) POP-A-LOCK or contact us online for a quote today!